LAND BANKING PROJECT (LBP) – EARN UP TO 30% ROI IN 10 MONTHS
If you're like most real estate investors, you're probably pursuing the real estate business with one or two primary goals in mind;
1. To buy a property and flip it for a profit as soon as possible.
2. To buy a property and create a dependable source of passive income.
Both strategies are completely legitimate, time-tested methods that have created a lot of wealth for a lot real estate investors.
In lieu of this, ZYLUS INVESTMENT LTD, one of the fastest growing and innovative licensed real estate company in Nigeria under Zylus Group offers its real estate investment platform- Land Banking Project under Zylus Investments Ltd.
THE CONCEPT
Land Banking Project is the number one(1) real estate investment scheme established by Zylus in 2018.
It involves buying properties in an underdeveloped area for a future sales with high return. We invest in the acquisition and development of lands, estates, and buildings, for future sales to earn high returns.
INTRODUCING…LAND BANKING PROJECT 13.0 MAX
(LEKKI PRIDE SPECIAL PLAN)
This is an initiative that involves acquiring, developing and managing of real estate properties with the purpose of generating income from real estate development in Nigeria and in Africa.
Land Banking Project initiative to provide investor with access to real estate market deals in Nigeria and in Africa. Since 2018, Land Banking Project has raised over 5Billion Naira with equivalent to $10,000,000 from over 500 investors (Project Partners) and 18 different real estate development located in Lagos, Abuja, Ogun State, Enugu which consist of over 2,000 apartments units and 5 of the estate are sold out, others still developing.
Why Invest in Land Banking Project
Stability
Cash flow
Appreciation
Inflation
Returns on Investment
PROJECT: LEKKI PRIDE ESTATE- Abraham Adesanya Lekki-Lagos
Current Estate Development
Lekki Pride Estate,
Zylus Court & Extension, Bogije- Ajah Lagos
Western Hiltop, Alagbado Lagos
Hilton City, Abuja
Signum Estate, Eleko Lagos
Richview Estate, Ibeju Lekki Lagos
Eti Ile Court, Ogun State
Maravllas Estate, By Opic Isheri North
Treasure Park Estate, Enugu
Elites Estate, Ikorodu Lagos
Stellar County, Ogun State
Investors Security
1. Receipt
2. Investment Certificate
3. Post-dated Cheque
4. Insurance
Investment Plan:
– Standard – 6months
Rate – 17%
Upfront – 16%
– Executive – 10Months
Rate – 30%
Upfront – 29%
MINIMUM INVESTMENT PER UNIT IS N1,000,000 (1M)
RETURN ON INVESTMENT
Currently, Land Banking Project (LBP) 13.0 offers an amazing ROI of 30% for 10 Months, and 17% for 6months when you invest a minimum of ₦1,000,000.
So, say you invest ₦5,000,000 for 10 month tenure, at the end of the investment tenure you'll get a total of ₦6,500,000. That's a whooping ₦1,500,000 returns… See for yourself in the Rate Chart below..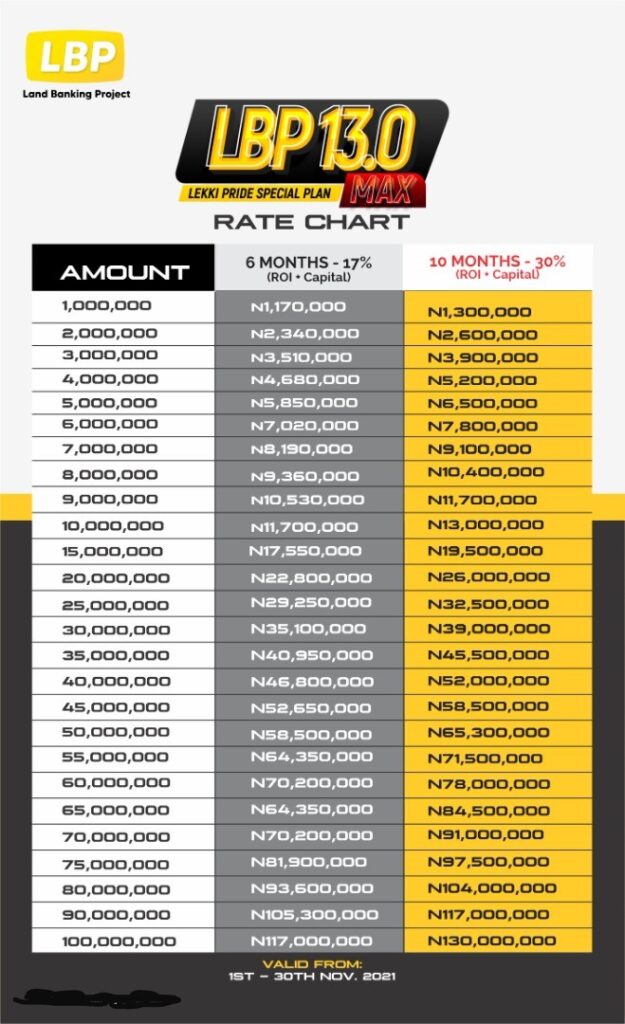 HOW SECURED IS MY INVESTMENT?
Your investment is 100% secured with an INSURANCE coverage with our partner insurance company and backed up with LAND worth the value of your investment which makes the investment tangible and worthwhile. Also you will be given a POSTDATED CHEQUE covering the amount invested and the returns on investment.
Are you an employee, employer, business owner, salary earner, or just someone looking for a place to invest? Then, don't miss out on an opportunity to invest in a secure and reliable platform.
Upon investing you get:
A Post-Dated Cheque
Deed of Agreement
Investment Certificate
Insurance Certificate
SIMPLE STEPS TO GET STARTED:
Step 1 – Contact us to get the investment subscription form
Step 2 – Fill the investment subscription form
Step 3 – Submit and watch Your Investment Growth
With LBP your maximum returns is guaranteed!
Ready to Invest in Land Banking Project (LBP)?
Contact us for payment and subscription form; Call/WhatsApp 08031920225 or send us an email: info@tpihomes.com.ng