EGC (ELIZABETH GRACE COURT) 5, OSBORNE FORESHORE 2, IKOYI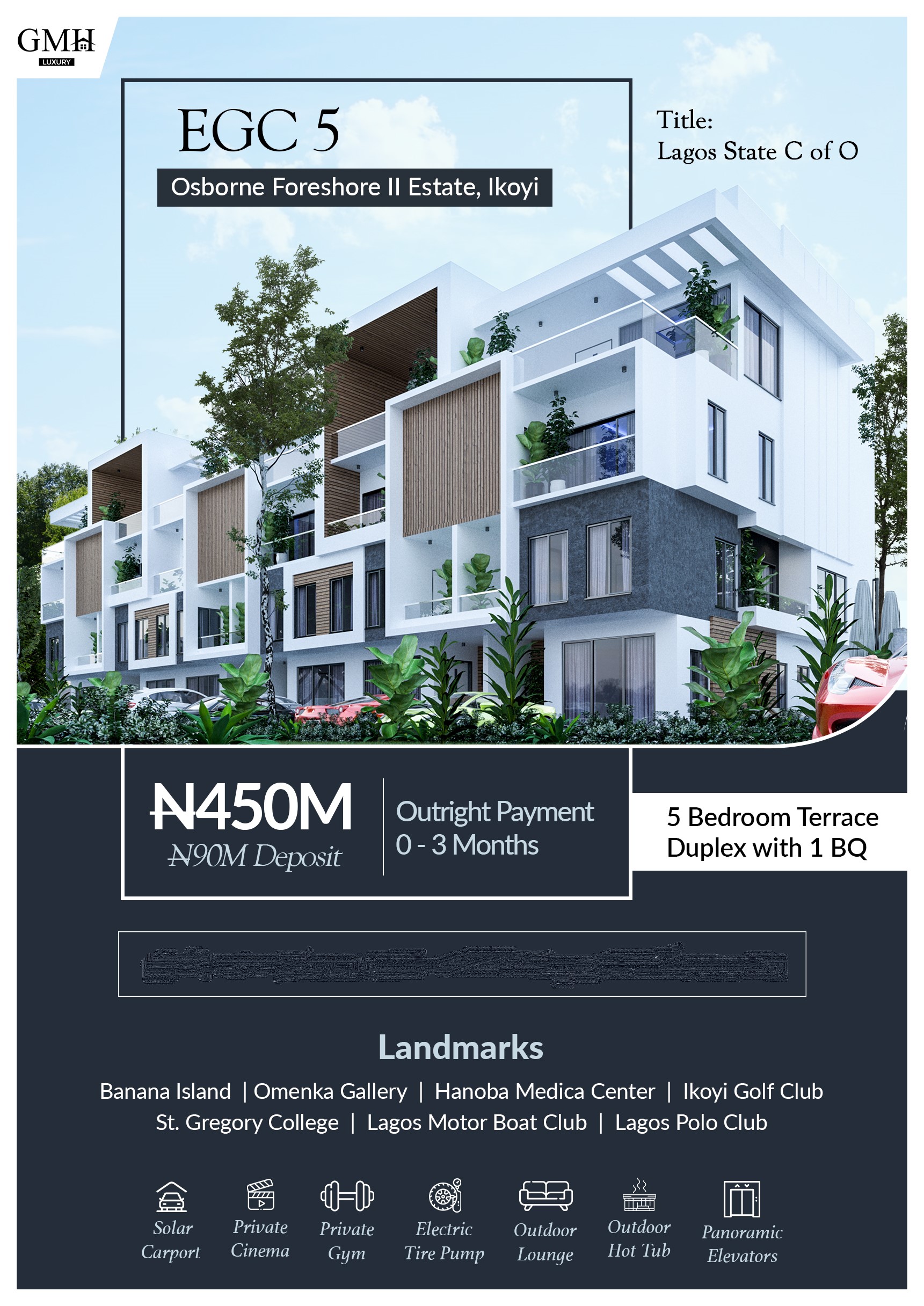 Details
ELIZABETH GRACE COURT (EGC) 5, OSBORNE FORESHORE 2, IKOYI
Elizabeth Grace Court (EGC) 5 is a perfect combination of architecture, comfort and functionality; carefully crafted to accommodate 6 units of 5 Bedroom Terraces with 1 Maid's Room built with the finest of contemporary designs.
Every corner of EGC 5 eludes sophistication; from the quality security doors, to the modern kitchen fittings, down to the spacious bedrooms. The apartment offers luxury at its purest form; undiluted and unrivaled.
This masterpiece is designed to give a feeling of Paradise on Earth, with the topmost floor of each apartment dedicated to leisure and entertainment, housing a home cinema, private gym, hot tub and rooftop lounge.
This luxurious edifice was designed with exquisite craftsmanship and superb quality to exude luxury, opulence and grandeur.
FACILITIES:
– Standard Gym
– Olympic size swimming pool
– Outdoor Lounge
– Extensive Landscaping
– 24 hours security system
– 24 hours power
– Electric Tyre Pump
– Elevator
– Luxury Fittings and more
This project also serves as a strong hold of investment.
LOCATION: Iroko Close, Osborne Foreshore 2 Estate, Ikoyi.
TITLE: Lagos State Government Consent.
UNIT SPECIFICATION:
– 5 Bedroom Terrace with a BQ
PRICE: N450 million (Outright/0-3 months)
INITIAL DEPOSIT: N90m
PAYMENT PLAN: Spread payment up to 12 months with interest.
DELIVERY PERIOD: February 2024
AGENCY FEE: No
NB: Statutory/Documentation Fees apply.
Live in the moment by purchasing a unit at the magnificent EGC5!
For more information and inspection contact: TPI Homes @ www.tpihomes.com.ng or Call/WhatsApp: +2348031920225, +2348050373288
ID:

4731

Published:

June 23, 2022

Last Update:

May 23, 2023

Views:

86