ORE (THE GOODNESS OF NATURE) – AFFORDABLE PLOTS OF LAND FOR SALE IN EPE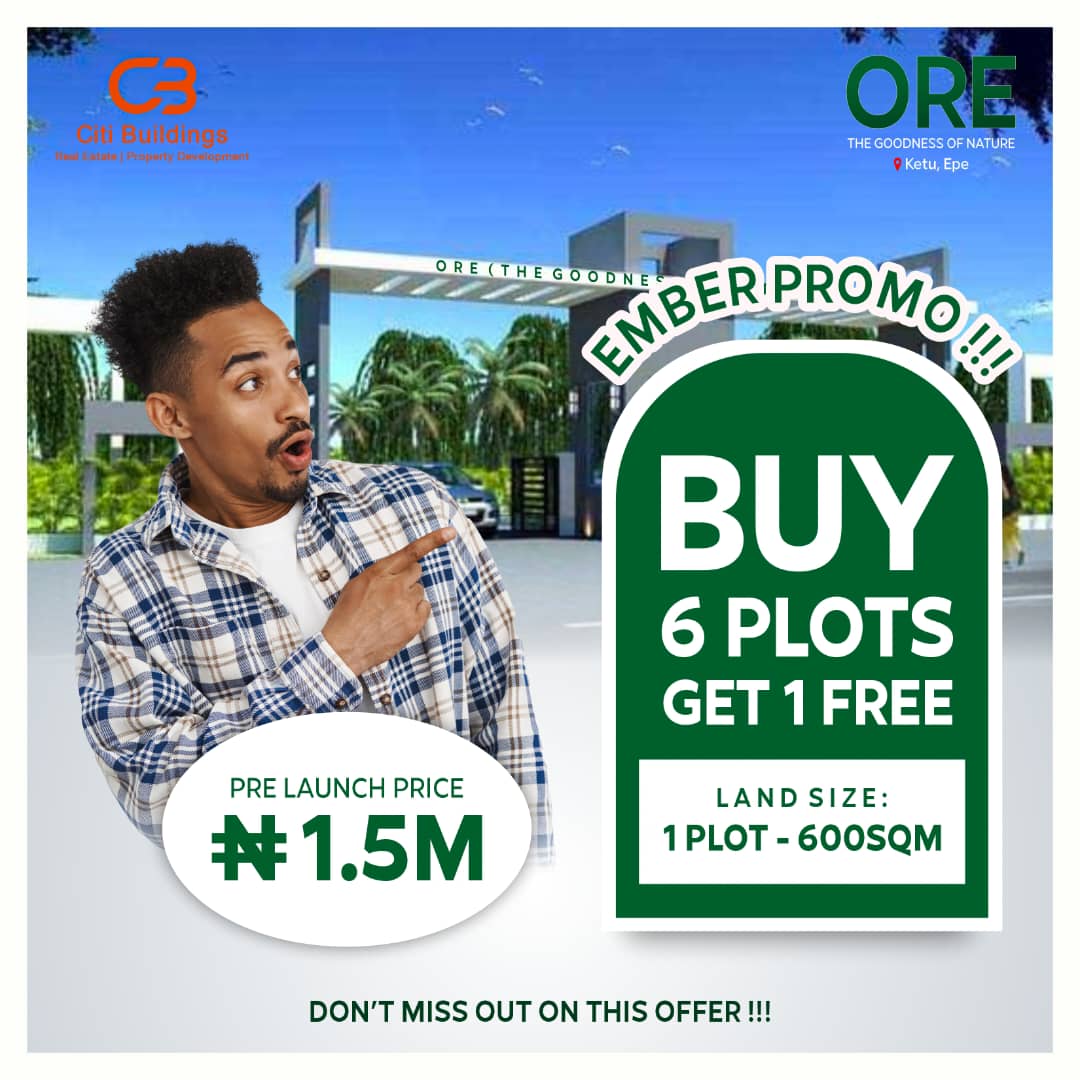 Details
ORE (THE GOODNESS OF NATURE) – AFFORDABLE PLOTS OF LAND FOR SALE IN EPE
It is new and it is sizzling hot!🔥🔥🔥
ORE (THE GOODNESS OF NATURE) is a top-class privately owned luxury estate located in the city of Epe, Lagos.
With her amazing serene environment suitable for quality and better living experience, ORE (THE GOODNESS OF NATURE) is the perfect estate.
WHY CHOOSE ORE (THE GOODNESS OF NATURE)❔
– You will build a network of high-profile personalities.
– Healthy and peaceful living
environment.
– High rate of property appreciation .
– It is located in the new phase of Lagos.
– It is very affordable.
LANDMARKS:
– St Augustine University
-The proposed international airport.
-Isimi Lagos
-Epe Resort and Spa
– Yabatech Epe Campus
-Lagos state Food and Logistics Hub.
*ESTATE FEATURES:*
☑️Top class security gate house
☑️Perimeter fence.
☑️Concretizes drainage system.
☑️ Electricity/Transformer
☑️Good road network.
☑️Street lighting.
☑️Recreational facilities.
☑️Green Areas
☑️Water
LOCATION: Ketu-Epe, Lagos state.
TITLE: Freehold (C of O in view)
PLOT SIZES: 300sqm and 600sqm
PROMO PRICES:
300 SQM – N800,000
500 SQM – N1,500,000
Only limited plots are available on EMBER PROMO SALES!!!
BUY 6 PLOTS AND GET 1 PLOT FREE!
TAKE ADVANTAGE OF THIS EMBER PROMO!!!
INITIAL DEPOSIT: N500k
PAYMENT PLAN: Spread payment for 6 months with interest.
AGENCY FEE: No
—
STATUTORY FEES
Development Fee-N500k
Survey-N350k
Legal Documentation-N150k
For more information and inspection contact: TPI Homes @ www.tpihomes.com.ng or Call/WhatsApp: +2348031920225, +2348050373288
ID:

5329

Published:

December 10, 2022

Last Update:

May 3, 2023

Views:

89