CITI GARDENS ESTATE 2.0, KETU, EPE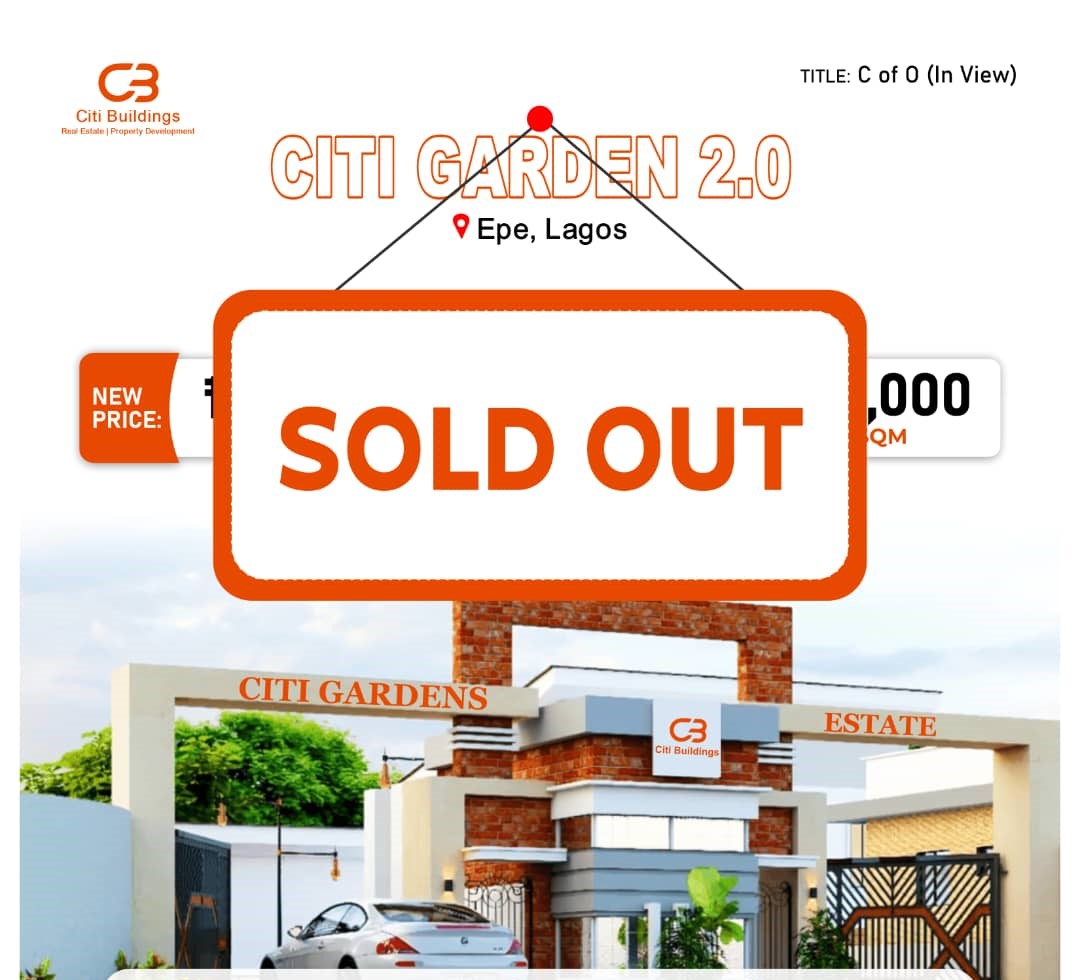 Details
CITI GARDENS ESTATE 2.0, KETU, EPE
Citi Garden Estate 2.0, Ketu, Epe, is sited in one of the major local government areas in Lagos state.
Located five minutes from ISIMI LAGOS and just beside the express that will lead you to Ikorodu in just 20minutes!
𝐖𝐡𝐲 𝐘𝐨𝐮 𝐒𝐡𝐨𝐮𝐥𝐝 𝐁𝐞 𝐀 𝐋𝐚𝐧𝐝 𝐎𝐰𝐧𝐞𝐫 𝐓𝐨𝐝𝐚𝐲 𝐀𝐭 𝐂𝐢𝐭𝐢 𝐆𝐚𝐫𝐝𝐞𝐧 𝐄𝐬𝐭𝐚𝐭𝐞 2.0 Ketu,Epe
– Epe boasts of good roads.
– Epe boasts of colleges and university which gives investors an idea of what they can do with their property.
– Epe is part of the locations that is not far from the Lekki free trade zone.
– Lands in Epe are affordable.
ESTATE FEATURES:
– Perimeter fencing
– Drainage System
– Stable Security
– Gate house
– Good Road Network
– Recreational Facilities
NEIGHBOURHOOD:
•St Augustine University
•Yaba Tech Epe Campus
•Epe Resort and Spa
•Isimi Lagos
LOCATION: Ketu, Epe, Lagos
TITLE: Freehold
PLOT SIZES: 300SQM & 600SQM
PRICES:
300SQM – N960,000 [SOLD OUT]
600SQM – N1,600,000 [SOLD OUT]
INITIAL DEPOSIT: N500k
PAYMENT PLAN: Spread balance for 6 months with interest.
AGENCY FEE: No
—
STATUTORY FEES:
Survey Fee – N350,000
Deed of Assignment – N150,000
Development Fee – N500,000 for 300 SQM and N600,000 for 600 SQM
REMEMBER!!! YOU DON'T WAIT TO BUY REAL ESTATE, YOU BUY REAL ESTATE AND WAIT!!!
For Enquiries/Inspection contact: TPI Homes @ https://www.tpihomes.com.ng. Call/WhatsApp: +2348031920225, +2348050373288
ID:

4748

Published:

July 10, 2022

Last Update:

March 21, 2023

Views:

80